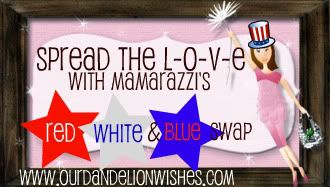 Woo hoo!Swap time has arrived! I participated in Mamarazi's
Red
,
White
&
Blue
swap this week and it was so much fun. This was my first time doing a swap and lemme tell you I am addicted already! Mamarazzi did an awesome job matching me with my swap partner
Sara
. We are both pregnant, we both love to craft & sew and are originally from the Pacific Northwest (she gets to move back there next month, no fair!). The package arrived with 5 smaller wrapped packages inside. I love how she had instructions on them for the order in which to open them up!So here is all my loot from the swap:
1. A package of Red Vines! I love these things! They are a west coast staple at the movies. I had to explain this to my hubby and his brother, as they are true east coasters, and love plastic tasting twizzlers (yuck). Natey quickly helped me out with this part of my package!
2. A festive pair of flip flops from Old Navy! Sara flattered me by getting me a size 8. :o) Oh how I wish I had smaller feet. Unfortunately I wear a whopping size 10, but Sara is smart and included a gift receipt so I can go trade them for the jumbo size this weekend!

3. Four handmade burp cloths. They are so cute and I love the fact that she made them for me. They are soft and the perfect shape to throw over your shoulder and get spit up on by my baby girl coming soon to a nursery near me!

4. A handmade changing pad. It is super cute, plastic lined and the perfect size to thrown in my diaper bag and take with me. Even my hubby was impressed by this, and it is not easy to get him excited about something sewn!!
5. Last but not least are 3 pieces of fabric. Like I said, we both love to sew and it was funny that we both sent each other fabric (and a handmade baby item too). I actually just ran out of the black and red one and went to Joann's to get more and they were out! Perfect timing Sara!

That sums it up. I had a great time playing along with Mamarazzi and Sara for this swap. I made a new bloggy friend and traded some really cute stuff at the same time. Check out Sara's blog- Outta This World to see what she got from 'lil ole me! I will definitely sign up to do this again.