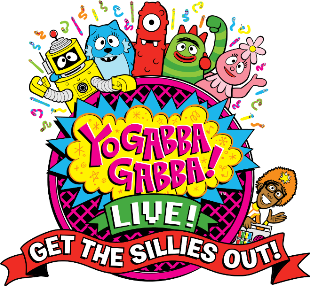 My kids love Yo Gabba Gabba! As parents, we are all subjected to kid shows on T.V. There are a small number of them that I actually enjoy watching with the kids and Yo Gabba Gabba! is one of them. I love that they teach kids important lessons, without them realizing it. They teach diversity, art appreciation, the importance of not biting our friends, and I can't count the number of times I have convinced one of my kids to eat something good for them by singing, "There's a Party in my Tummy". What is even better is they incorporate musicians that I like to listen to. My son is 5 1/2 and still loves to watch the show, so when I got the chance to take the kidlets to the live performance I jumped at it! I know we will love it and will tell you all about it after we go on Saturday! If you don't live in Boston, they have tour stops all over the country too.
"The sillies are crazy little creatures that live inside of us and need to be shaken out! DJ Lance Rock and everyone's favorite cast of colorful characters are calling all fans in Boston to get ready to jump, shake and shimmy them out at the new live tour

Yo

Gabba

Gabba

! LIVE!: Get the Sillies Out!.

Yo

Gabba

Gabba

! LIVE!: Get The Sillies Out! tour will visit more than 50 cities across the U.S. in 2013.

Yo

Gabba

Gabba

! LIVE! is touring in support of their first national beverage launch, a new line of toys, a new line of kids sportswear and a DVD/ CD collectors' edition."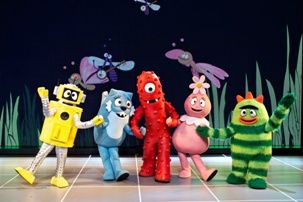 Yo

Gabba

Gabba

! LIVE!: Get the Sillies Out!
will have two

performances at the Orpheum Theatre in Boston on Saturday, Jan. 26th (2pm and 5pm). CLICK HERE
for ticket information for the shows

.

Tickets start at $23.50

.

VIP Party packages are available as well which include a ticket in the first 15 Rows, a pass to "Get the Sillies Out" in the private VIP room featuring a super fun party with the

Gabba

Gang (costumed characters) and more. Children under 1 year old do not require a paid ticket to sit on a parent's lap.